When you put a house on the market, it is imperative that you stage the home correctly. But what is staging, exactly? Staging is preparing your home to show it in its best possible light, and in a way that buyers can picture themselves living there. This can be as extreme as renting high-end furniture to fill the home, or as simple as moving a few things around.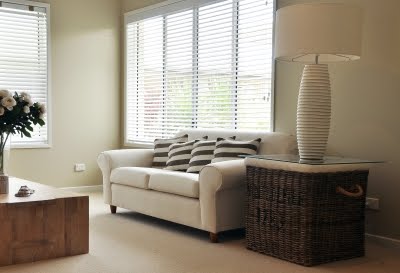 Here are a few pointers:
Remove clutter. This is simple, but one of the most important. Get rid of anything that doesn't absolutely have to be there - including that toaster oven that hardly gets used, old magazines off the coffee table, those remote controls and video gaming accessories, kids and pet's toys, cosmetics and bath accessories etc.
Organize. Most of us have far more clothing, shoes, and accessories in our closets than we ever use. Pack up those old coats and ill-fitting clothing, and donate to charity or put in storage. A closet with some space between hangers looks much bigger. Clean up the garage and put those tools and bikes in their proper place. Make sure the curtains are hanging properly and area rugs aren't out of kilter. Arrange your furniture in the way that fits the home the best.
Clean! Make sure fixtures, mirrors, & windows shine, remove those cobwebs and replace your air filter. Clean the carpets and keep them raked. Keep the landscaping trimmed, and pick up pet waste promptly. Wash your front door and doorknob - they are the first impression!
Replace any dead or missing light bulbs with new bright but efficient bulbs. When property is scheduled for a showing, leave all lights, including accent and closet lighting on, and open the blinds to let natural light also come in.
Remove personal effects. Some buyers may be distracted or turned off by hunting trophies, religious or political artifacts, or other items that might not go well with their own personal lifestyle and beliefs. Even your family photos should be put away, since the buyer wants to picture the home as theirs, not yours.
Add a little decor, if home is vacant. Buyers in this distressed-property market are accustomed to vacant homes, but you can make yours look better by adding some artificial plants, a welcome door-mat, and hang some nice towels in the bathrooms. A few accessories in strategic places can make the house look homey. Easy-listening music playing lightly in the background can enhance a buyer's mood.
Fix that smell! This is of utmost importance. Consider not cooking foods that have strong lingering smells, such as fish, onions, garlic, broccoli, or exotic herbs. Even the scents of popcorn, bacon, and coffee can turn some people off, so consider your menu carefully! Take the trash out daily, even if it's not full. Give Fido and Fifi a bath and wash their bedding. Use simple tricks to make the home smell nice during showings: bake some bread or cookies (I hear warming an open can of beer in the oven emits the same pleasant yeasty scent, let me know if it works!), use inexpensive decorative scented oil/reed diffusers or candles with fruit or vanilla scents. Avoid flowery or musky fragrances. Above all, do not smoke in the house. Smoke odor is probably the longest lasting and hardest to remove. I have seen potential buyers walk right out of houses without looking further because of smoke, or if they still liked the home in spite of it, offered less because they predicted (correctly) that there would be more move-in cost due to cleaning and replacing carpets and paint.
The above tips are all relatively simple, but if followed, should make your home stand out above all the dirty, cluttered, stinky homes that are the competition. Good luck with your sale!