FAQ on Home InspectionsProfessional property inspections are absolutely essential: there is no practical substitute for a professional inspection as a measure to discover and investigate defects or shortcomings in a property. ~ Arizona Department of Real Estate Buyers Advisory
What is a home inspection?
A home inspection is a visual physical examination performed by a professional home inspector in order to identify material defects in a home. The inspector will generally provide the buyer with a report with detailed information about the property's condition. It is now common practice for many inspectors to provide a report online, with photographs.
Who should get a property inspection done?
Anybody who is considering a home purchase!
When is it done?
During the Buyer Inspection Period, which in most cases, on the standard Arizona purchase contract, is defined as the 10 days subsequent to acceptance by the seller. The seller, especially if it is a bank owned home, may counter with a shorter period. Unfortunately, if you buy at a Trustee or bank auction you may not get an inspection period at all, and you are taking your chances.
How do I find a home inspector?
Your Buyers' Agent should be able to provide you with a list of home inspectors to choose from, or you may find your own through ASHI. Find out more about hiring a home inspector from the National Association of REALTORS®
What inspection items should I most be concerned about?
The inspector will not be looking for cosmetic imperfections, but should look for structural defects, household or safety hazards, test the electrical system, plumbing, HVAC system, windows, do a visual inspection of the major roofing components, foundation and support, water heater, and more. The report will point to defective items and either recommend repair/replacement or further analysis by a licensed professional in that field. The buyer may use the information in the inspection to determine whether they a) want to go ahead with the home purchase b) get further analyses done c) ask the seller to make repairs at their expense d) use the information to determine the cost to improve the structure or safety of the home after purchase.
How long does the inspection take?
In a typical tract home 2-4 hours.
Are there issues with the home that are outside of the scope of the home inspector?
The home inspector may not include or be licensed in the inspection of fungus (mold), advanced electrical, roofing, or plumbing components, pool systems, or termites/pests. Find out from your home inspector if they include these in their inspections and if not, hire additional inspections if you find them material. For example, if a light switch blows a breaker, the home inspector will be able to point that out, but generally is not licensed to take it apart to diagnose the problem and will recommend analysis by a licensed electrician. Or, the home inspection may note that there is visual water damage that could lead to fungal activity, but may not be licensed to do a comprehensive mold inspection. Some home inspectors are licensed to do mold, pool, roofing, and termite inspections but those would usually be charged extra. What is, and what is not, required of an Arizona Home Inspector can be found at the Arizona ASHI Web Site.
How much does it cost?
It can vary between inspector to inspector, if there are extra add-ons such as termite or pool inspections, and by the size of the home, but usually we see them done in the $200-$400 range. I know a guy who used to be in the home construction business. Maybe I can save a few bucks and hire him to inspect the house? Maybe he's great at building some components of houses, but is he a qualified home inspector? We regularly see home inspections that point out glaring errors made by builders in their haste to get a home built in the shortest time using the cheapest labor possible. Also, with the sometimes short time alotted for code (municipal/county/city) inspections at the time the houses are being built, it's easy for code inspectors to miss some crucial problems and pass a house with defects as up to code. These errors could be an incorrect circuit breaker for the type of wiring that could lead to fire, or insufficient insulation in the attic which would cost the home's new owner thousands of dollars in electricity costs, or worse. If you're buying a house, even a new-build, hiring a licensed, qualified home inspector is essential!

The following photos are all from a single home inspection report. Would you have spotted all of these defects without an inspection?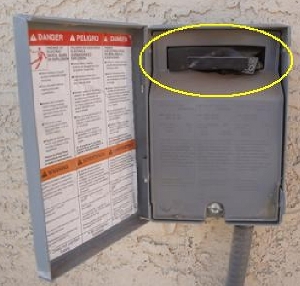 Melted A/C handler disconnect due to improper size of circuit breaker. Can you say "fire hazard"?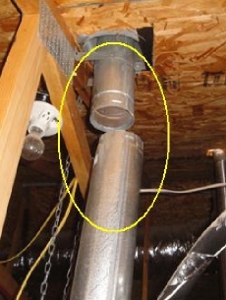 Um. yeah. This has got to be bad.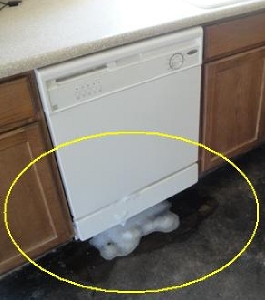 Broken dishwasher seal due to previous owners using incorrect cleaning supplies.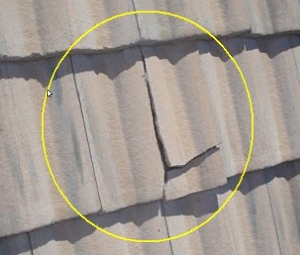 Cracked roof tile, exposing felt which can lead to more damage and leaks.
What else can go wrong if I don't get an inspection?
Check out this entertaining article from MSN.com.